© 2021 Dr. G's Brasshole All Rights Reserved Photos and names used with permission.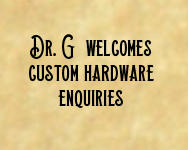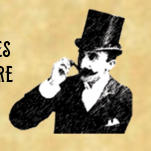 A
RTS AND
C
RAFTS
The Arts and Crafts movement
dates from approximately 1880-
1920. Reactionary to the Indus-
trial Revolution, the movement
emphasized handmade over mass
production, with a focus on simple
forms and clean lines, natural
materials, and originality. Inspi-
ration was taken from Shaker,
Mission, and Japanese styles.
A
RT

N

OUVEAU

Most popular from about 1890 -

1910, the Art Nouveau movement

was inspired by natural forms and

structures, primarily the curved

lines of plants and flowers.

Stylistic influences include Pre-

Raphaelism, Arts and Crafts, and

Japonism.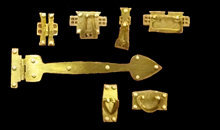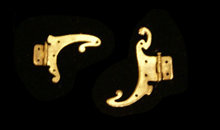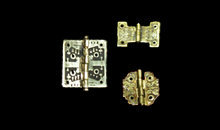 E
ASTLAKE
Considered part of the Victorian
and Queen Anne styles, the
Eastlake Movement dates from
about 1870-1880 and was
founded by Charles Eastlake,
who felt that the furnishings and
decor in people's homes should
be made by hand or machine by
workers who took pride in their
work. The geometric design
features (spindles, ornaments,
relief carvings, and incised lines)
were made to be reproducible,
affordable, and easy to care for.
We invite projects for custom work, and stand by our motto of 'by artists, for artists'. If
you don't see some hinge or hardware in our offerings but can see the project
in your mind's eye, that's reason enough for us to get started. Successful custom
projects like the ones pictured here are something in which we take great pride.
We would be pleased to help you create that unique, impossible-to-find, period-accurate
hardware that would help your next project truly soar. Contact us to discuss bringing your vision to reality.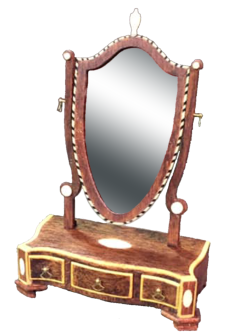 Dressing Glass, c. 1790-1800
Studebaker Miniatures
www.studebakerminiatures.com
Leather Portfolio, c. 1760-1790
White Horse Studio
www.whitehorsestudio.com
Designed for the scale miniaturist, our brass hinges are etched, hand folded, polished, and finished.
Each pair of hinges is crafted from at least 8 mil brass (unless otherwise noted) for sturdiness and
stability. Fasteners are included with each pair of hinges and are not lacquered. Most pieces are
offered in a bright brass and a blackened finish, and we are busy working to perfect additional
custom finishes/patinas. An extra fee applies for finishes other than bright brass - please check in
our Etsy shop for prices and availability (link at bottom of this page).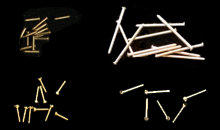 N
AILHEADS
Our nailheads in round and
square pyramid shapes are small
metal dots that you can use to
simulate nails in projects where
you just can't (or don't want to)
drill a multitude of holes. Ideal
for use as nailhead trim on
furniture, button tufting, nails on
trunks and cases, the list is
endless!
T
OOLS
We now offer some of the unique
tools that we realized we needed
for ourselves but had a tough
time finding: micro-tip
screwdrivers that fit with our
scale screws; tweezers with ultra-
fine tips that fit through our bail
posts; drill bits sized to match our
fasteners and a pin vise that holds
them tightly.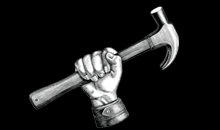 F
ASTENERS
We offer a few types of fasteners,
all in solid brass and custom-
made for us and exactly in scale
with our hinges and hardware.
Precisely machined for a
consistent size, our fasteners,
screws, and bail posts look great
when installed on 1:12 furniture
because they are the right size
and are uniform part-to-part.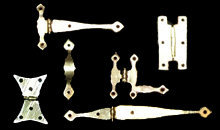 C
LASSIC

C

OLONIAL

Solid, honest, hand-forged, and

durable are words that define

American 'Colonial' style

hardware. Handmade by

blacksmiths, American colonial

hardware designs were as unique

as the maker, and styles and

motifs were influenced by the

styles in the countries that they

and their forebearers left behind.

Typically dated from about

1700-1760, the American

colonial style has had many

revivals, and similar style

hardware is in use even today.
B
OOK

J

EWELRY

Book clasps date as far back as

the 12th Century, and range from

simple leather straps to ornate

metal clasps and corners. Clasps

and corners were used not only to

hold the books closed, but also to

protect the leather or velvet book

covering. Our brass clasps (that

really work!) and corners are sized

for use on most 1:12 scale books.
H
ARDWARE
This category is for much of the
non-hinge hardware we make, in
all styles. Currently we offer
escutcheons and push-plates,
and we'll be adding more variety
as inspiration (or requests) strike!
T
RUNK

&

C

ASE
H
ARDWARE
Steamer trunks, portfolios, train
cases, briefcases - if you're
making it, we have the hardware.
Many of the items in this
category began as hardware for
miniatures classes in Castine, ME
and Williamsburg, VA.